Thinking of changing your accountants?
Changing accounting firms doesn't have to give you sleepless nights! Say goodbye to the accountant you only hear from during invoice time, and say hello to Bradleys — your own friendly, dedicated accountant.

Are you unhappy
with your accountant?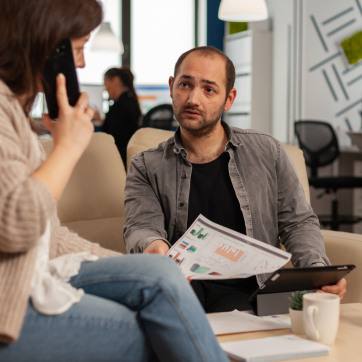 Whatever the reason, you can always rely on Bradleys Accountants — your expert accountants in Kent.
Our 3-step
migration a process

In our first conversation, we'll work to understand the issues you have with your current accountant and the services you want from us. This is an essential step as it will help us identify how best we can serve you.

Once you've decided that Bradleys is the right choice, you have to write a letter to your existing accountant explaining that you are switching elsewhere and send us a copy of it.

As soon as we receive a copy of your letter, we will liaise with your existing accountant for all the transfer information. It's that simple! Work with us because we're pretty sure we are the best accountants in Kent.
ACCA accountants
We are rather proud of the fact that we are an ACCA-member firm. It means we provide the highest standards of professional competence and conduct.
Modern accountants
We love using Xero and QuickBooks to make it easy for your fast-growing business to manage your finances efficiently. Let's set up your business for success!
Amazing service
Customer service is at the heart of everything we do, and our guaranteed levels of service are our way of 'putting our money where our mouth is,' so to speak.
Fixed pricing
We don't haggle or negotiate when we raise an invoice. Our price is agreed with you before we start working together — nothing more, nothing less. We play fair!
What do people say about Bradleys?
Whether you're a startup, SME or CIS contractor — migrating your accounts to our team is a piece of cake.
Arrange a callback from our team, and we will offer honest and unbiased advice regarding the steps you need to take to switch.
We're available from 9:00 am to 5:30 pm, Monday to Friday.